This is a good ride of 4.5 to 6 hours from Brightwater for anyone wanting a long endurance ride with plenty of variety. There is no technical difficulty and the climbs aren't steep. Should not be ridden during the week as log trucks routinely use Eder and Western Boundary Rds. Tasman Forests permit required. These can be obtained online from
Tasman Pine Forests
website. Take plenty of water as there is none available and it's a good idea to take a 1 : 50,000 map although not all the forest roads are correct on them.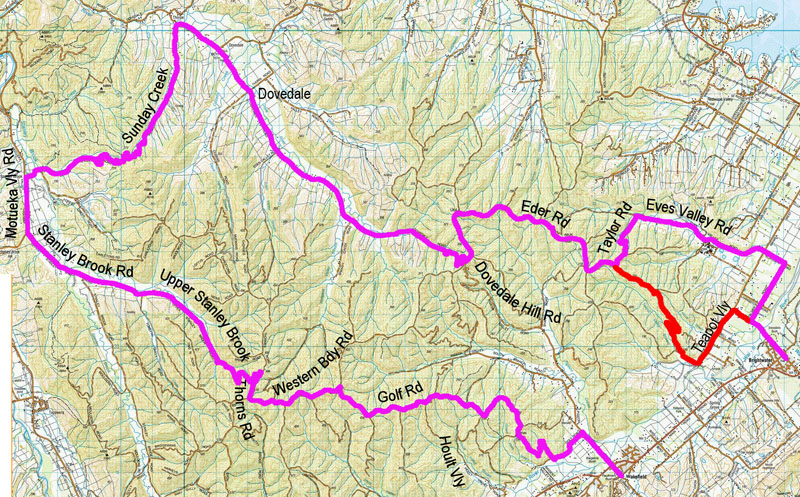 • From Brightwater or Richmond head over to Waimea West and up Eves Valley Rd past the timber mill. Take a right 50m before the locked gate on to Taylor Rd which also has a locked gate (more detailed map
here
). Follow up for 2.5km keeping right until you reach Eder Rd. It is the main haul road for the timber mill. Turn right on to this and follow it for 6km to the Dovedale Saddle. About 1.5 hours from Brightwater. Turn right at Dovedale Saddle and head down some good switchbacks on the gravel road. This turns into tarseal. Pass through Dovedale and about 2km later turn left up Sunday Creek.
• Alternatively start at Wakefield and ride up the Dovedale road to Dovedale Saddle. This will cut about 30mins off the ride.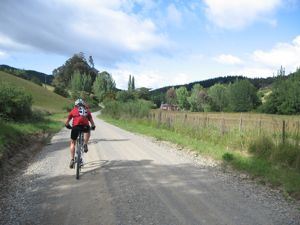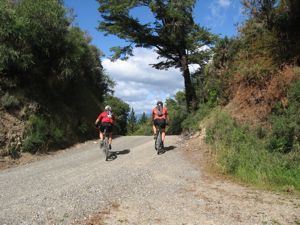 The gradual climb up Sunday Creek Road to the saddle

About 2 hours. Sunday Creek Rd climbs at an easy grade for 25 minutes to a saddle and then drops down and joins the Motueka Valley Rd. Turn left for about 1km then left again on to Stanley Brook Rd which is gravel again. Continue on up here eventually passing through a couple of farm gates (about 3 hours) as the road heads up into forestry and climbs up the ridge top where you turn right into Thorns Rd (not currently marked). One to two km along here turn left on to Western Boundary Rd. This road continues right through to the top of the Dovedale Hill, however a more interesting route is to turn right when you reach the Golf Rd intersection and head down it. Click
here
for a more detailed map of the Golf Rd - Pigeon Valley South Branch area.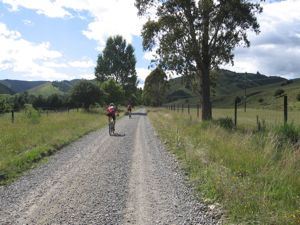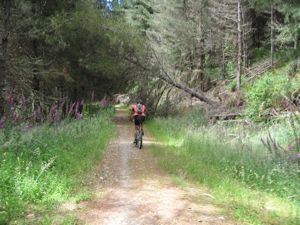 Upper Stanleybrook leads back up into forestry. Descent down Golf Road (now logged)
You can drop off down Ricketts Rd to the South Branch of Pigeon Valley, but it is better to angle right and continue on Golf Rd past Bradleys Rd (4 hours) through newly replanted pines. Navigation can get more difficult from here, but stick to the most obvious main road. Less than 1km fter Bradleys there is a Y intersection with a drooping sign on it. Go left here and then generally keep right. Golf Rd gradually narrows and re-enters trees, there is a another sign at a Y intersection further to direct you before a swift descent down to the valley floor through a recently logged area. After the forestry gate go left with a couple of short climbs before emerging on Pigeon Valley Rd. Turn right and cruise a K to Wakefield. Refuel if necessary at the Chateau Rhubarbe before heading back to Brightwater (4hrs 40) or Richmond via Bird Lane and Higgins Rd or Mt Heslington Rd to avoid the main road as much as possible.