Silvan Forest is a privately owned forest, made accessible for recreational use by its generous owners, Rick and Sarah Griffin and family. The MTB Trails Trust developed the first stage trail network in the forest between 2014 and 2018, with pine harvest taking place 2018/2019.
Post harvest in 2019, the Griffin family have moved into a hands-on management role with trail network rebuilding and continuing development, investing directly into ensuring Silvan continues to provide a fun and high quality riding experience.

Donations directly to the Silvan Forest project are welcome and encouraged, and can be made at the donation box at the trailhead/main gate.
SORRY NO DOGS ALLOWED
This is currently a NO DOGS forest, due to the thriving Weka population.
Silvan provides a great front country riding area, seamlessly linking through to TDC land behind Richmond, and giving Stoke a reasonably close access point to some riding fun. Cycle path linkage through to Saxton Field from Champion Road will also enhance the off-road accessibility of this area in the near future.
Trail construction started in November 2014, with a focus on dual direction climbing trails of easy to intermediate grade heading up from the forest access point and linking to natural staging areas inside the forest boundaries. A downhill specific grade three trail, Hare Down, provided one of the first loops, followed by Sequence, Goliath, Spittrock and Exodus. Alpha trail, which is the main climbing trail, has now been extended right up to the top of the forest. For convenience sections of it have been named, starting at the bottom: Alpha Tahi, Alpha Rua, Alpha Toru, Alpha Wha and Alpha Rima (see map below). From the top of Alpha Wha, Peoples Choice, Ari Mahoe and Ezra Mamaku descend on to Jacobs Ladder and Heaven Up Here which take you back to Alpha. Peoples Choice and Six-foot-five were named in memory of Kelly McGarry.
Post pine harvest the forest is a mix of macrocarpa, eucalypt and some wonderful patches of native bush. The macrocarpa areas of the forest give a riding surface and experience quite different to anything else found in Nelson/Richmond. Much of Silvan is also north facing, which helps hugely when combined with a sustainable approach to design and build, providing long term durability and low maintenance. Replanting of the clear felled areas is scheduled to start in autumn 2020 to provide a permanent 'arboretum' style result.
To get there head up Champion Road, and turn right into the water reservoir access road (now called Eyles Rd) which is directly opposite number 205 Champion Road. Follow the MTB signs from there and you'll come to the trailhead/automatic gate which is the access point into the forest. There is car parking adjacent to the gate.
On your left immediately after going through the access gate is the Alpha trail, which takes you up into the trail network. Please don't use the gravel road between the main gate and the Arena, as this section of road will have traffic on it from time to time. Explore the forest road network higher in the forest, as this will take you to the Kingsland Forest boundary (and the Richmond trails), the Richmond Fire Lookout, and across to Marsden Valley if you are heading for some longer riding adventures. Omega and Green Dog trails lead down from the Arena back to the carpark and are good options to finish your ride. Off Alpha you can ride up The Sling and Exodus to the current top of Alpha Rua.
As of November 2019 the trail network has been reinstated back to where it was before the pine harvest, with the next stage of new trail development well underway. Silvan Forest is available to ride anytime, however forest users should be very respectful of the area, and appreciate the privilege of being able to ride this private land. There will a minor logging operation taking place in Silvan in 2021, and any closure signage or notification needs to be adhered to.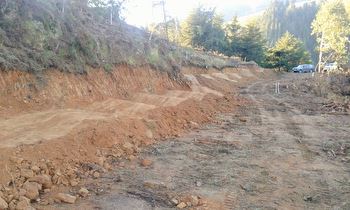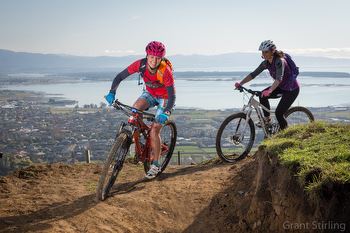 Slink Pumpline Atop the Jubilee Gum Track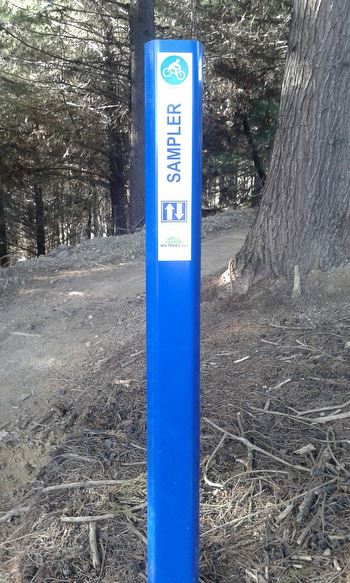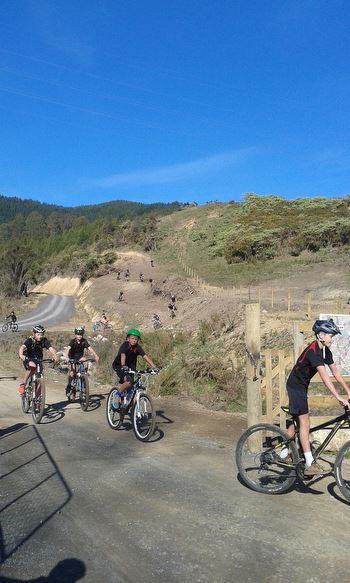 Trail markers with grade, name etc Dozens of school kids enjoy the trails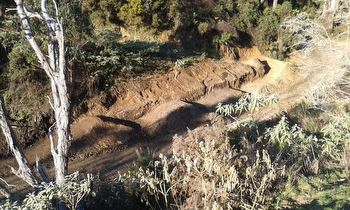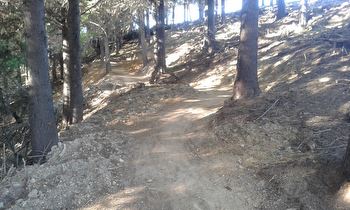 The Slink pump/bump track The Sling Track (originally Sampler)