MTB Trails Trust has built a network of over 50kms of trails in the St Arnaud area with the aim of creating at least 4 day's riding. All of the trails are in native bush and have remained open during droughts when all other trails in the top of the South Island were closed. There is a network at Teetotal connected to the village by the Village Link track. All tracks are multi-user, so riders please respect other users, you don't own the tracks.
There are two climbing tracks on easy gradients, Kaka and Robin Banks, which take you to the top of Big Bush. Big Bush track was originally a bulldozed track for kaka monitoring. It has now grown to form an attractive singletrack off which Flying Moa, Duck Down and Rocky Horror go off. Closer to the village we plan to build Shrek and two way track from close to the village up to the top of Duck Down. At present we are awaiting DOC to conduct a review of current use of conservation land in the country before we can undertake any new track construction.
Also planned is the Tophouse Road Link to connect the Teetotal network to the trails in the Beebys Knob area.
The map below shows the existing network while the blue lines are proposed new tracks.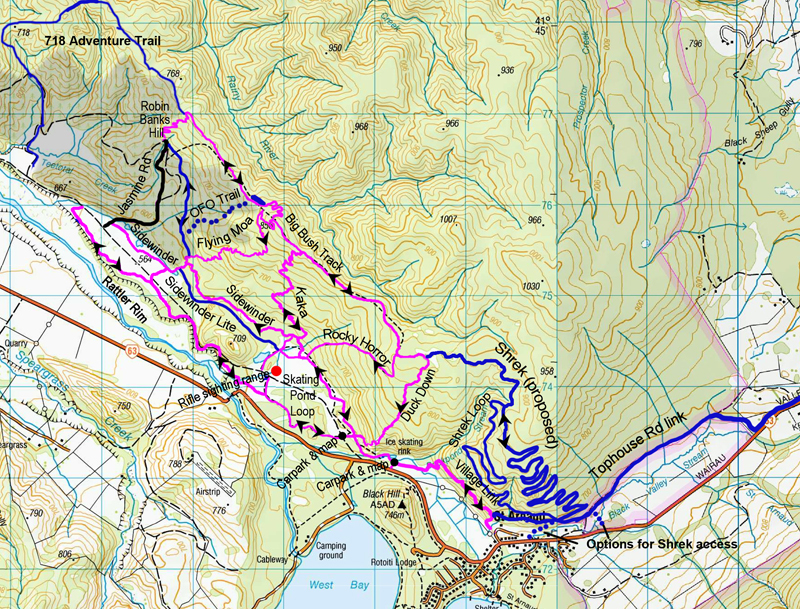 The map below shows the tracks in the Beebys Knob area. Red lines are proposed future tracks.
The trailhead is at the Red Hills carpark. From St Arnaud drive east on SH63 past Rainbow Skifield turn-off, then at the bottom of the hill just before a one lane bridge the carpark entrance is on your left.
From the carpark Wots up Doc climbs 11km past the start of Unhinged to the start of Maitland Ridge trackfrom which other tracks are planned to be built.