Picton End of the Domain
Existing MTB Trails - in the area bounded by the Domain access road, the Harbour View Track and the Picton-Waikawa Track. - Sidle from the Echo to the start of the Picton-Waikawa Track (beside St Johns building) - Informal fall-line trails immediately beneath the Domain access road
1. Sidle Upgrade
The sidle from the Echo to the start of the Picton-Waikawa Track is a legacy type trail, with steep pinches (up to 15 degrees), narrow tread and significant erosion and scouring especially where the trail descends to the marina carpark. Currently, because of the pinches and narrow tread it appears that this sidle gets very little MTB use. This section of trail could reasonably easily be upgraded to flatten the gradient and widen the tread targeting a grade 2-3 level user. The Echo entry point may be able to be rebuilt to cater for MTB use as well, removing the steps and platform currently in place and replacing with a suitable speed control measure for bikes exiting at this point. This would ensure the Echo entry point could be more easily utilised for MTB access.
2. Grade 2-3 Loop
(new) Starting from the Harbour View Track intersection with the Sidle trail, this loop would cover two key purposes. The first being a well graded, uphill trail to take MTB users to the water tank point at the high point of the Domain ridge, and then onto accessing the rest of the Domain and Snout trail network. The second being a loop that utilises the favourable contour profile in this area of the Domain fully, giving a non-threatening, short loop riding experience. The short section of walking trail between the water tank and the road would need to be recategorised as dual use for this to work. Fairly significant informal trail building has already taken place in this area beneath the Domain access road and directly above Lincoln St, with structures of very dubious integrity also in place – the trails built in this area are predominantly fall-line trails, carrying all the associated issues these type of trails always provide (safety, sustainability and appropriateness concerns). However, a well-built loop trail running through this area of informal building would allow remediation of these informal trails, while utilising the mature totara and cedar grove as a feature. See map below for a potential trail plot for this loop. Total trail length: 1.6km Nominal trail width: 1.2m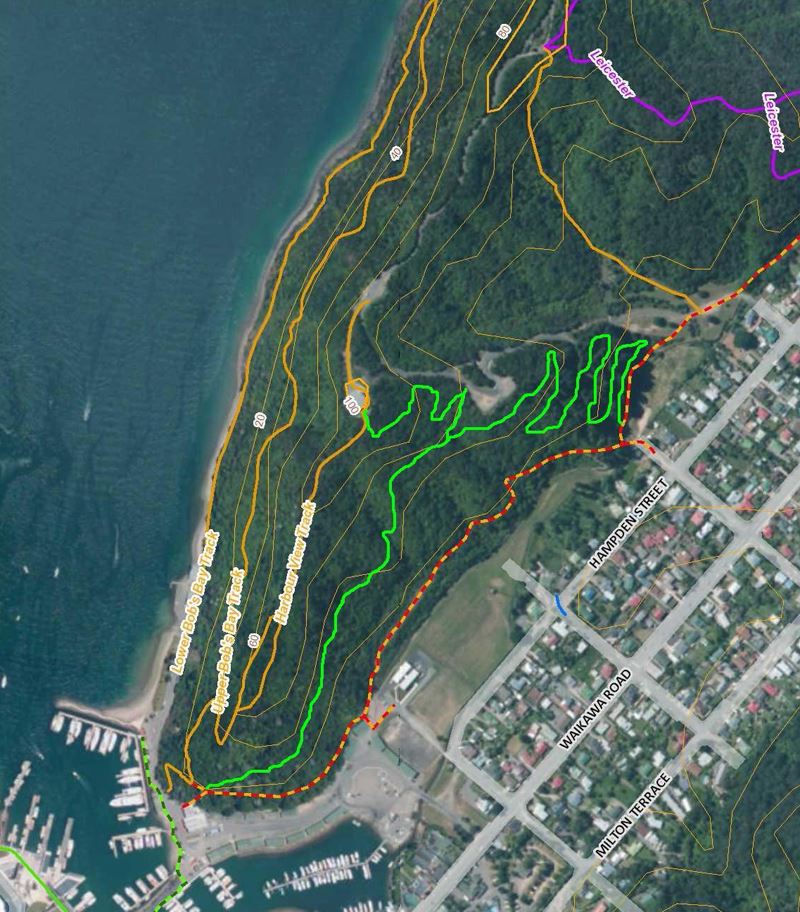 Snout End of the Domain
A well established, 4km long walking only track takes walkers right to the end of the Snout via a lookout point at 160m vertical, from a hub point where Westside and the new Ranui St MTB tracks connect with the ridge. Bikes are currently (informally) tolerated on this walking track however some issues with dual use will surface with increased use. The current walking only track is of typical walking track design, with good tread width, in/out corner design and typically steep pinches of up to 15 degrees being the norm. The wide tread width and use of flatter saddles are the only features that will also work well for MTB use. If MTB use is a future option for this track corner design would need to be addressed, as would the steepness of any gradient to minimise conflict and improve trail sustainability. In the uphill direction, a gradient of more than six degrees starts to become a barrier to intermediate MTB use. In general, only fit and strong MTBers will tolerate sustained climbing at gradients greater than six degrees. In the downhill direction, existing gradients of 15 degrees will generate serious speed for MTB users. Combined with current in/out corner design, this speed will manifest in user conflict and trail damage. Because the steep gradient pinches are in both directions of the existing walking track, MTB users would need to tolerate sharp climbs and fast descents to get to the Snout end, but then have to deal with equally steep and sharp climbs and fast descents to return.
Options for MTB Use of the Snout End of the Domain
.
1. New, MTB priority Loop Trail
– Marlborough District Council Reserve Land This option is achievable, and would require a new build on both sides of the ridge from the existing walking only track, using the lookout point at 160m vertical as the reference point. For an easy/intermediate level, average overall gradient would be 7% (or 4 degrees) from start to finish, and the greatest benefit of this option would be the separation of walkers and bikes on those parts of the existing walking track that are too steep for general recreational riding. This build would utilise Marlborough District Council Reserve land only, and would not impinge on any other private landowner interests. Any direct linkage from the Loop Trail to the Waikawa Marina is not included in this option. The loop track would connect with the existing walking only track at a point where trail gradients out to the Snout end are more in keeping with recreational MTB use – it is suggested that from this point to the Snout end the existing walking only trail be recategorised as dual-use. This portion of the existing walking only trail would require very minimal upgrade or realignment to cope with dual use, with potentially only the opening up of some sight lines required to manage any dual use/dual direction conflict. The lower level of the loop track on the western side may also open up opportunities to provide linkage to the foreshore at suitable places – for the purposes of this option these opportunities have been included as indicative only, with four possible beach access points shown on the map. The practicality of linking this lower level with those beach access points is still to be determined. From the lookout point at 160m vertical, this loop track option would return back towards Picton by following a parallel route to the existing walking only track already in place for approximately 600m. This 600m section would remain inside the Victoria Domain reserve boundary, and would then veer away from the existing walking only track once reserve land opens up again close to the 180m vertical high point. It would then contour back to the start of the loop with good separation from the walking only track. See map below for a potential trail plot for this track. Total trail length: 5.0km Nominal trail width: 1m
Middle of the Domain, West Side of the Ridge
A trail network is in place on the west side of the ridge, in an area bounded by the new Ranui St track, the Picton-Waikawa Track and the Domain Rd. This network is a mixture of existing forestry roads, and hand built MTB trails. In general, these trails will provide a mixture of user experience, with possibly some confusion over where they fit with a desired user experience. For example, the existing forestry roads provide steep and inconsistent descents, and those that have been utilised as traversing and/or climbing links don't work too well due to the common steep pinches. Bad erosion and scouring are unwanted by products of these trails, and every section of steep gradient commonly presented as scoured gutters. The new Ranui St track has clearly been built as a descending trail, and would fit with a grade four categorisation in its current form. Narrow, steep and reasonably challenging – if this is also this trail's desired user group then it meets that need as is. Trails such as Annex and The Doctor provide some issues, and it isn't clear what user group they are designed to cater for. If climbing back to the ridge is the desired objective for these trails, then gradient realignment will be necessary (as well as corner design) to make these trails rideable by more people.
Options
Trails in this area may be suitable as is, with more of a rough and ready approach. However, if approached on a case-by-case basis, with a clear view of what user group/grade category is desired then upgrades and realignment of unsustainable sections are sure to be required. Potential exists in the large area bounded north of the Scout Walking Track, the Picton-Waikawa Track, and the Domain Rd – favourable contours are features of this area, however no scoping of opportunity here was provided.
General
For the MTB trail network in the Victoria Domain, some emphasis on grading of existing trails and providing appropriate signage so that user expectation is met will be a desirable outcome. A concentration on not exceeding maximum gradient for sections of trail will also be a desired feature of a well networked trail system. The new Ridgeline track is a good example – while built well, with good use of reverse gradients and using natural features as anchors etc, this trail still suffers from several sections that are too steep. While these sections aren't necessarily a barrier to an experienced and strong rider, they do tend to lessen the experience for more recreational riders by interrupting flow and enjoyment. Tread width should also be a major consideration. While the natural flora lends itself to tight, narrow trails, a narrow trail width is also a major barrier to recreational level riders. Recreational level riders will often tolerate steeper tracks as long as the tread is wide, but narrow trails will always be considered much more difficult regardless of the gradient. If the objective of upgrading existing or providing new trails is to encourage a broader range of users on bikes, a wider tread width will likely be required on especially grade 2-3 trails.