Te Ara Koa is a grade 4 ride of 30 to 40 mins from the top of Fringed Hill.
It is best done in dry conditions.
Ride up Fringed Hill Rd to the top. The trail is signposted from there.
The first section of the trail is quite rooty and off camber in places before it reaches the Fringe carpark. More off camber and rooty sections follow as the trail descends to cross Cummins Spur. Soon the trail begins to traverse across the side hill on a narrow bench with a few small drops over roots. It pays to keep a bit of speed on if you can to keep momentum over the numerous small rises.
There are two XXX features. The first is a sharp rollover that you can't see over until the last minute. You will need to keep a bit of speed on though so you don't stall on the crest. There follow some steep narrow sections before a sweeping steep corner that leads to more steep narrow trail that can be quite loose in places, so care is required. The second XXX feature, which is a 1 metre drop over a horizontal tree, is easily rolled once you are familiar with it. There are a couple of quite sharp, steep corners just before the track drops on to and crosses the Dun Mountain Trail.
Below Dun Mountain Trail, Te Ara Koa continues as a narrow sidling track across the steep hillside with some short sharp drops over roots to keep riders on their toes.
After crossing a firebreak the character of the track changes to a series of swooping bermed corners down to Brook St as a finale.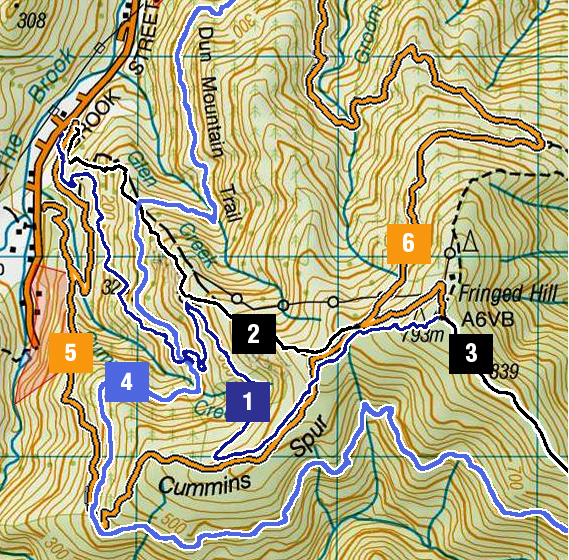 Key to map: 1. Te Ara Koa. 2. Fringe DH. 3. Black Diamond Ridge.
4. Coppermine Trail. 5. The Classic. 6. Fringed Hill Rd.