Most of the trails in Kingsland Forest are on loamy soil which is very greasy when wet, so this area is not suited to riding in wet conditions.
Turn east up William St off Salisbury Rd, Richmond, then angle right across Hill St into Churchill Avenue. Turn left into Marlborough Crescent then on your left just after a right hand corner is a small parking lot at the entrance to Easby Park. Cross the bridge and ride up the grass and get on to the 4wd road. Follow the road 100m to cross the creek and the start of Escalator Track is signposted on the right. Ride up Escalator until you reach a skid site. Take the left hand road ahead of you to traverse around to the top of the advanced grade Cavers Track, the right hand one, Lookout Rd to head down hill or take Fowler Rd, which is the middle one to reach the top of Slippery Rail (advanced, not recommended when wet).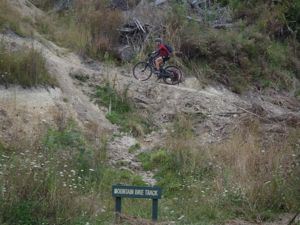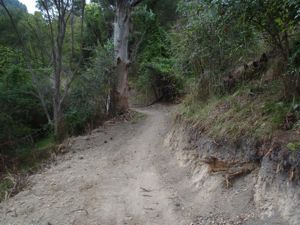 Start of Escalator Track, the best uphill access to other trails

To ride Slippery Rail ride about 200m climbing a little on Fowler Rd until the road flattens off. Immediately on the right, is the entrance to Slippery Rail which is unmarked. The track is narrow with deep ruts, descending steeply through kanuka, ending with a short drop on to a benched track which is the lower entrance from Lookout Rd.
Keep left and enjoy the bermed corners that take you down across Pylon Rd and on to Rail Terminus.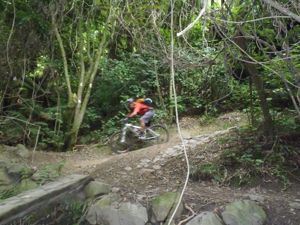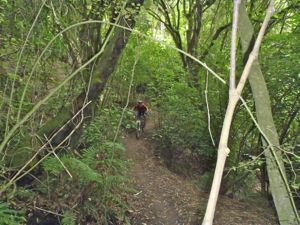 Lodestone Gully Trail follows off Rail Terminus
Rail Terminus is a well formed, bermed trail built by Nelson MTB Club members that leads down in to Lodestone Gully. Soon after crossing the main creek in Lodestone Gully the trail forks. Go right and you come out on Tower Rd. Ride up Tower Rd to where it meets Pylon Rd, go left down Pylon Rd about 15 metres and turn hard left on to the top of Bermed Monster.
Bermed Monster lives up to its name. It is currently (August 2014) being improved by Nelson MTB Club members. It is an advanced trail with quite steep corners and ends on a grassy 4wd track. Head right along the 4wd track to Pylon Rd. Cross Pylon Rd and take the right of two tracks which links back to Escalator which you can either descend or go up again to ride Cavers.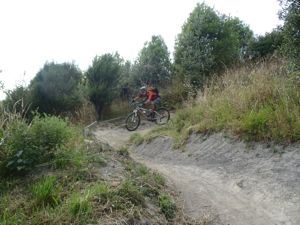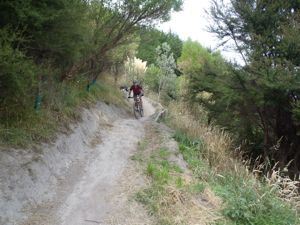 Bermed Monster offers well bermed advanced grade switchbacks
From the skid site at the top of Escalator, take Oliver Rd, the left hand one, and follow it around to a locked gate. Shortly after the gate turn left down a firebreak which eventually becomes singletrack. There are a couple of steep tight corners as the track descends in to Resevoir Creek on some old skidder roads. Keep on the true right of Resevoir (the track on the true left is walkers only) and follow the road out to Easby Park.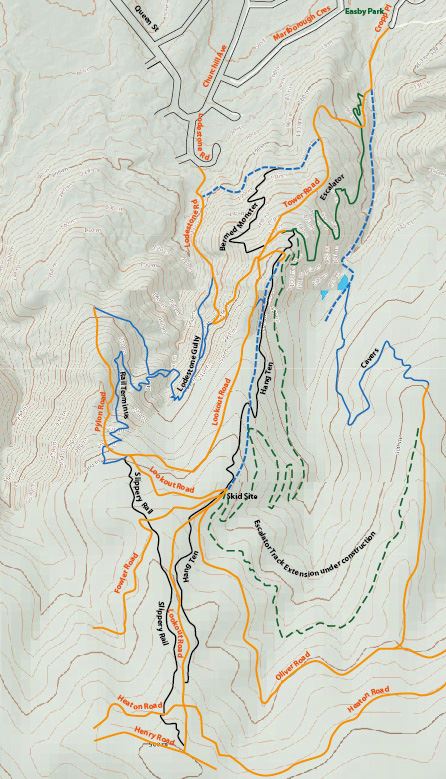 Map of Kingsland Forest Trails