During August and September I was lucky enough to have a month-long MTB trip to British Columbia. I joined with four friends from Christchurch, Murray, Julie, Grr (Graeme) and Rory.
I picked up a big Chevy van in Seattle and met them at the Vancouver airport. We piled all the gear and bikes in the back. (I had previously removed the rear seat.) and headed out for Summerland. It's a relaxed little town by the Okanagan Lake, an area of fruit growing and many wineries. We were staying in holiday homes, booked through a website called VRBO, the North American version of "Book a Bach".
To warm up we rode the local trails called "Test of Humanity" after putting the bikes together. Luckily, the test wasn't too tough. The wildfire smoke was though. We could hardly see the lake for it. This was with us for a large part of our trip. The Californian fires made the news but the fires in BC were more numerous, the worst ever the locals said. There were warnings on the radio against doing any strenuous exercise so we just went mountain biking!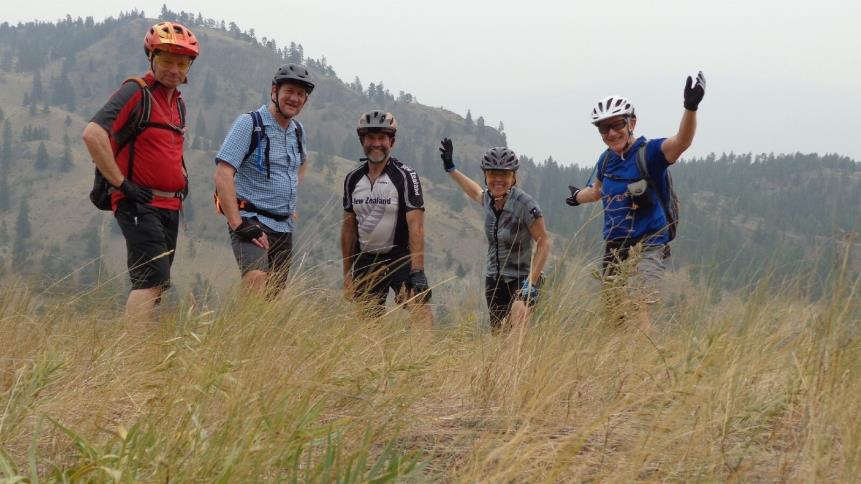 The team in smoky Summerland
We rode at Penticton in the Three Blind Mice network and I made a huge error (like a blind mouse), leading us up the descending trails, making myself quite unpopular. Eventually we found a road and used that for climbing. The trails back were sometimes challenging, especially when Rory chose the Black Diamond ones. There was typical slab rock with some tricky chutes.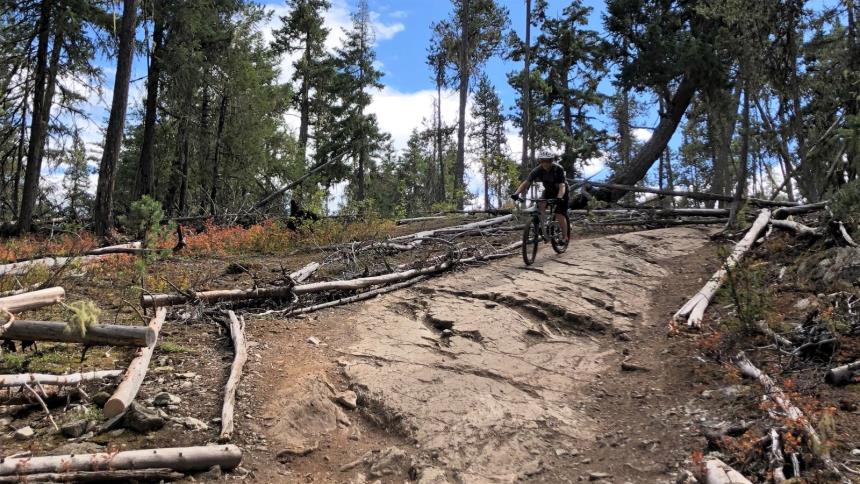 Slab at Penticton
I try to ride IMBA Epics when on this kind of adventure so "Beowulf" at the Silver Star Resort was high on the list. It comprises a 35 km loop with an enormous descent of about 1200 m in 11 km that seemed to go on forever and a similar climb back out. Part of the climb was called "Bradford Street" after the steepest street in San Francisco!
The trails at West Kelowna were fun. The area is known as Smith's Creek and includes a car ride!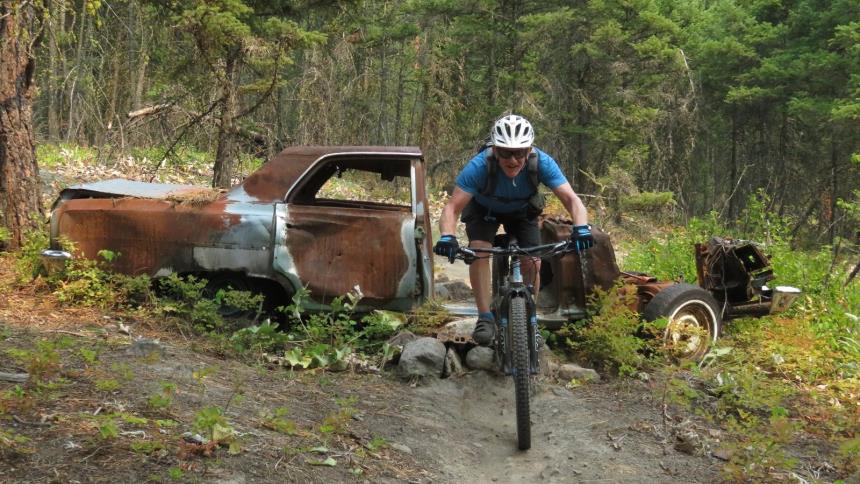 Going for a car ride
We couldn't avoid staying in Nelson BC. It is a great town with a friendly vibe. Lots of old restored buildings and hippy culture. This place has a sense of humour too. The bridge across the lake is called BOB (Big Orange Bridge)! There is so much riding that we only scratched the surface. There are 8 recognised riding areas with a range of difficulties from hard to impossible. Some places pay scant regard to climbing and all the trails seem to be a grade up from what we are used to.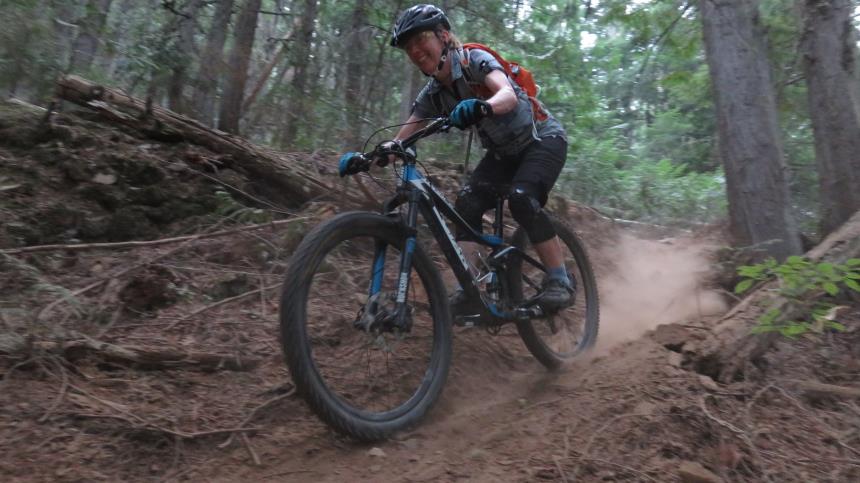 Julie Drops in on "Fat Chance"
There are no recognised epics but we found the "Vallelujah" loop in the Smallwood area was a great long ride with a huge variety of terrain and there would be some great views if there wasn't so much smoke!
From Nelson we made a short trip back to Rossland to conquer the "Seven Summits". I have ridden this trail before and loved it. This time it seemed just as tough as before and everyone looked stunned when we made it back to the van. Luckily the Rossland Brewery was open for business and revived everyone.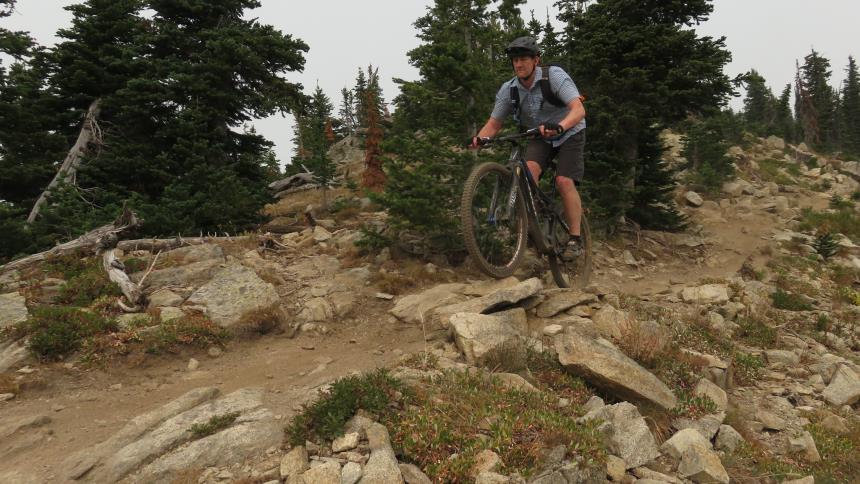 Rory conquering the Seven
Fernie is another great BC small town. The climbing trails were more friendly and there were some great descents too. We enjoyed a big climb up Castle Mountain, a cruise in Ridgemont and were attracted by some of the trails across the valley that had interesting names like "Swine Flu" and "Phat Bastard".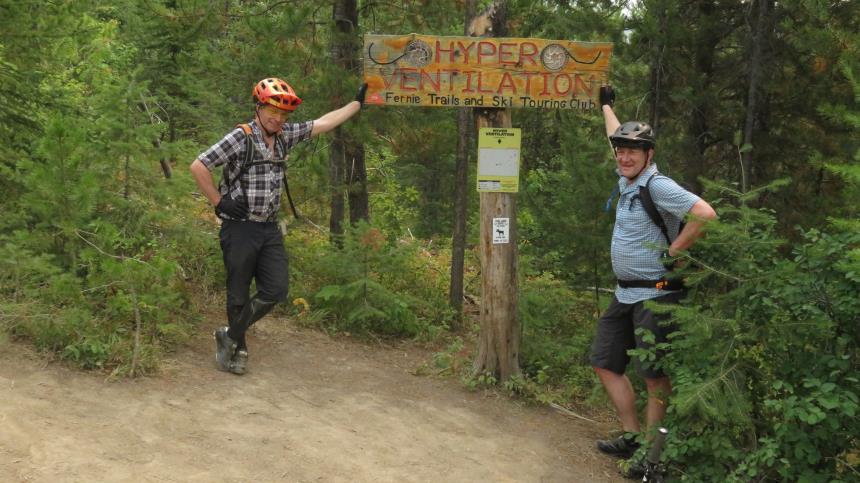 Murray and Rory fight for breath
Our next stop, Radium Hot Springs wasn't an obvious for MTB but with Invermere 10 minutes down the road, and some nice hot pools to relax in it proved to be a good choice. We rode an unusual trail called "The Johnson" which was mostly pretty straightforward but fun cross country. It had a sting in the tail in the form of some serious exposure along the edge of a fantastic canyon.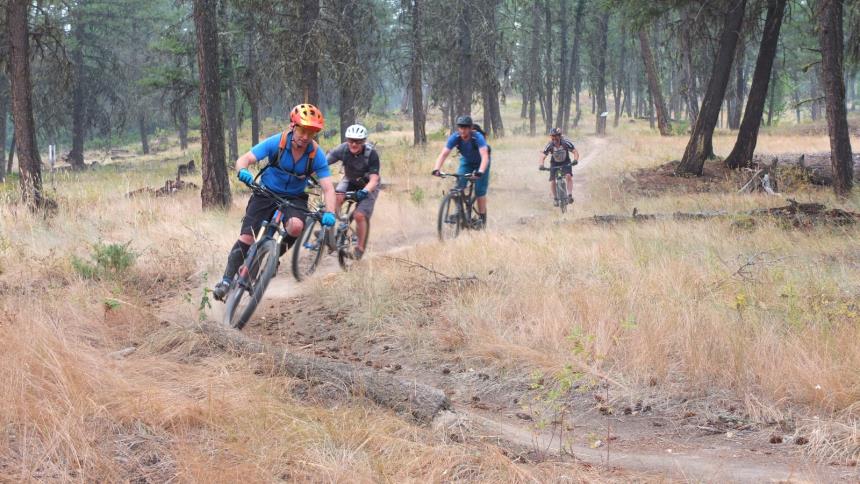 Murray along the Johnson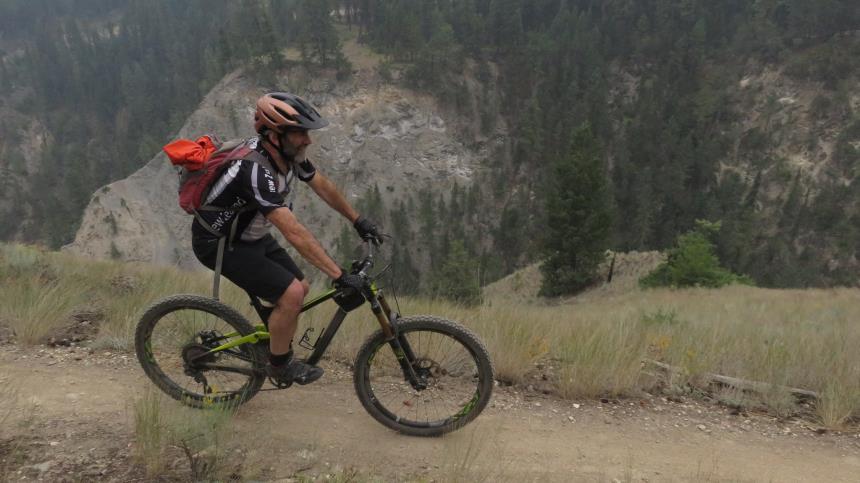 Grr on the edge
We couldn't miss a visit to Revelstoke where we did two of the big rides, "Frisby Ridge" and "Keystone Standard Basin". These are glorious high alpine adventures. It was the first time we pulled out the rain jackets but when the rain cleared so had the smoke and the views were awesome. We had an all too brief bear encounter while driving out from our Keystone ride.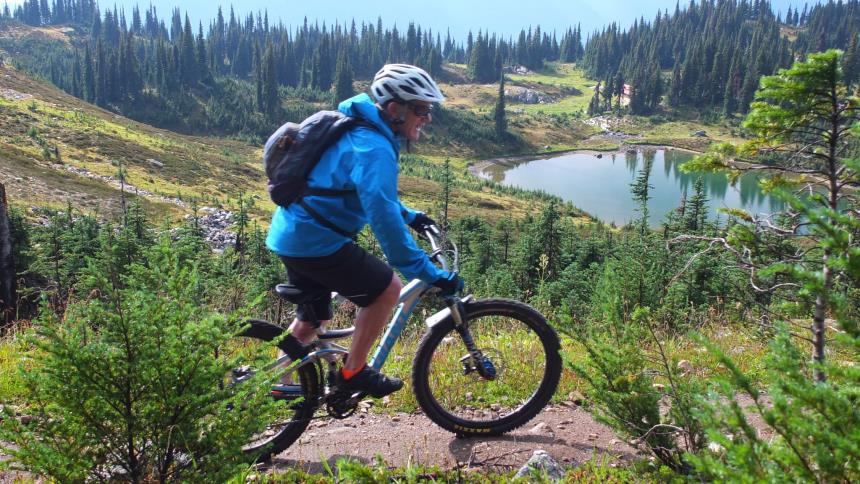 Recovering from rain on Frisby Ridge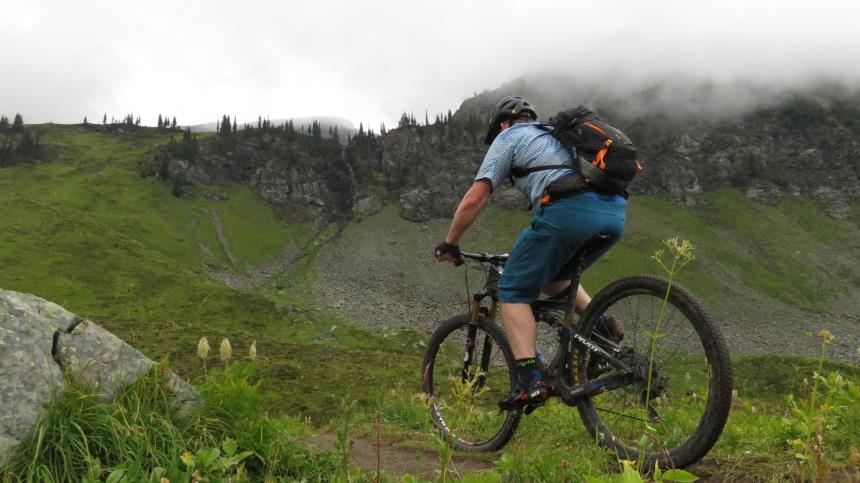 Rory with head in clouds on Keystone
It was a long drive across to Whistler, our last stop but much anticipated. It proved to be as good as we had expected. The highlight for me was the "Into the Mystic"/"On the Rocks"/"Lord of the Squirrels" epic ride. Everyone gets excited about "lord of the Squirrels" descent but for me the gorgeous rocky alpine of "On the Rocks" was just unbeatable. We finished our trip with rides at Pemberton and Squamish where of course we had to ride "Half Nelson". It was a special trip with a special group of friends.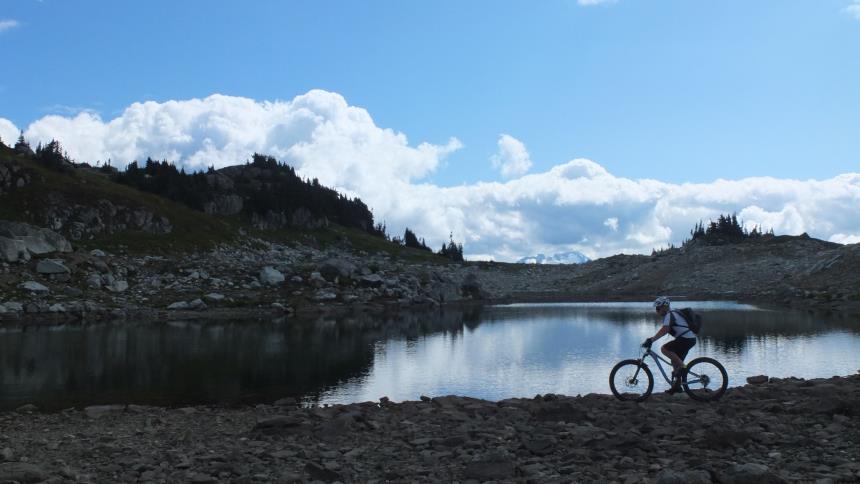 On the rocks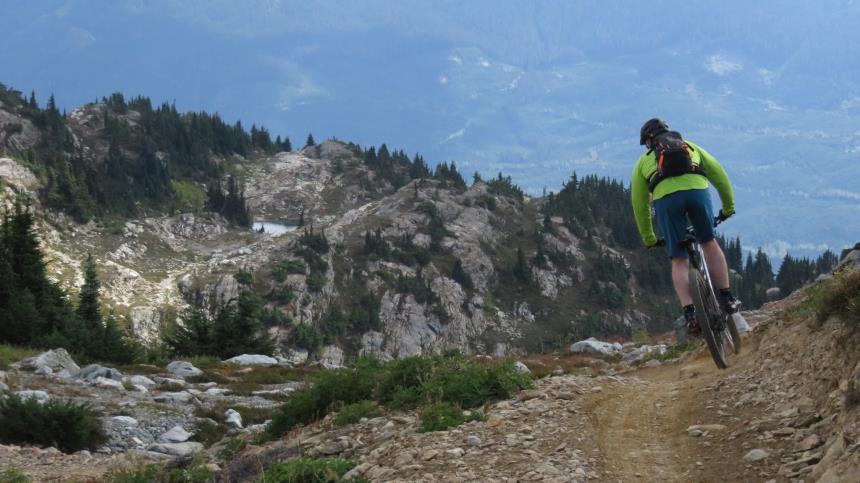 Rory heading for Lord of the Squirrels