Rating
: Grade 4+, narrow technical singletrack with some steep descents. Allow 4–6 hours for the 22.5km loop.
Know before you go:
There is no reliable water supply on this ride until Red Hills Hut so take plenty. Carry warm clothing and spares as this is high country and remote. The track is well marked with orange DOC triangles. Allow 2-3 days of fine weather before you ride for the track to dry out, especially during winter. Ride only in the direction described.
Getting there
: Turn left off Hwy 6 just past Belgrove and take the road to Nelson Lakes National Park. Turn left when you reach Highway 63 and drive to the bottom of the hill past the Rainbow Skifield turnoff. Watch out on your left at the bottom of the hill for the entrance to the Upper Six Mile carpark. It is 100m before a one way bridge.
From the carpark follow the sign to
Wots up Doc track
, which climbs 11km to the start of Maitland Ridge.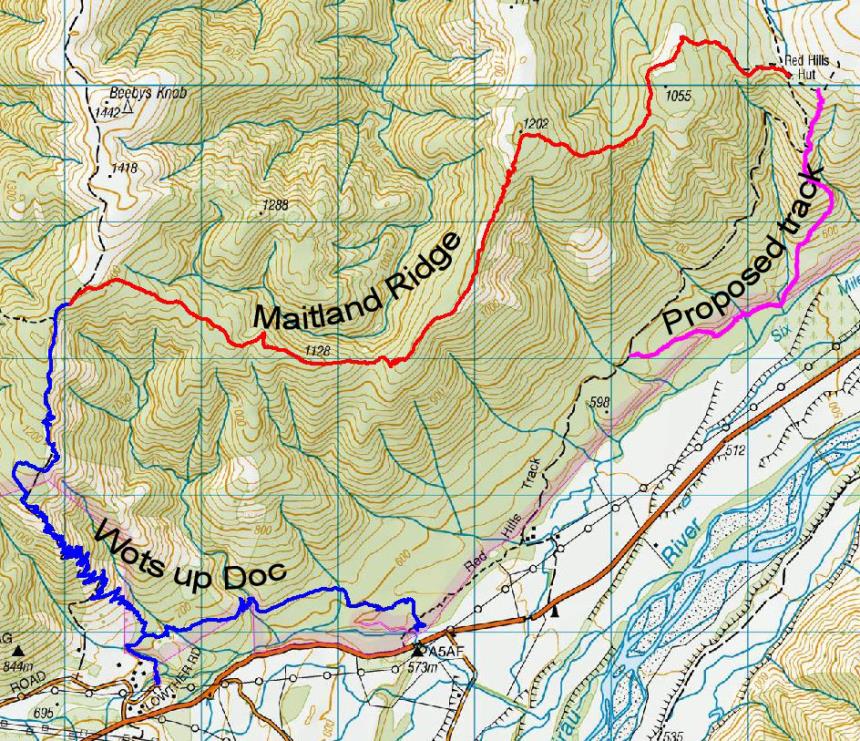 Drop your seat and enjoy the descent down through stunted beech forest. There is a short graded climb to a clear knob before the descent continues down through the bush with some good technical riding to a low saddle at 1040 metres. From here the track tends north-east and zig-zags to gain height on to a long gradually rising spur. This leads through a number of large clearings which offer the opportunity of views up the Rainbow and down the Wairau Valleys. There is a final section of zig-zags up to spot height 1202m among stunted mountain beech forest. From spot height 1202m the track turns east and descends, gradually steepening into a section of steep technical corners that twist through the forest before reaching another broad saddle at 1000 metres from where the track swings north-east again.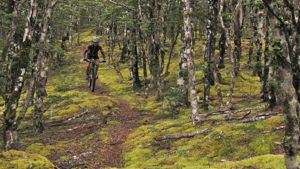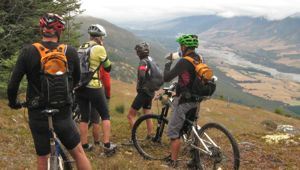 The track descends through stunted beech forest. Open area allows view down Wairau Valley

A graded climb for 800 metres brings you to a rocky knoll at about 1050m where it joins an old bulldozed track that leads down to Red Hills Hut at 917 metres. From the hut follow the road right down to the locked gate beside the grassy flats at the bottom then follow the orange triangle markers south-west to the Upper Six Mile carpark. There are some challenging technical uphills on this last section of track but these can be avoided with a new bypass that goes off to the right just before the creek crossing at the start of the climb.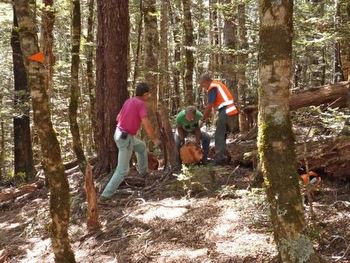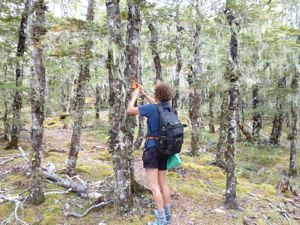 Working on the uphill corners. Attaching trail markers to the trees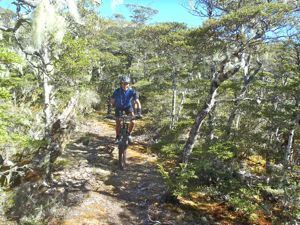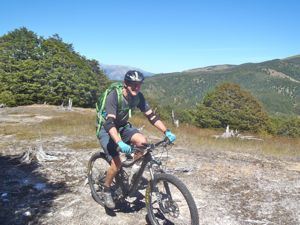 The ridge heading east from Beebys Rd. Climbing to spot height 1202m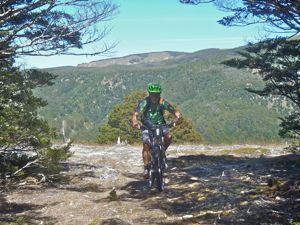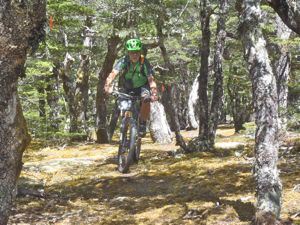 Beebys ridge in the distant background. Riding through stunted beech near spot height 1202m.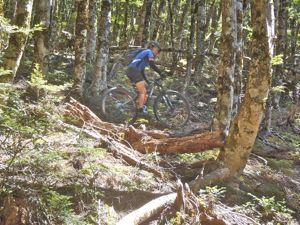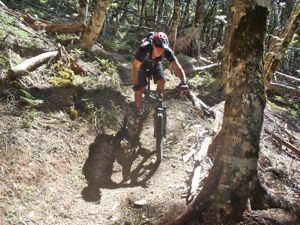 Part of the technical descent from spot height 1202m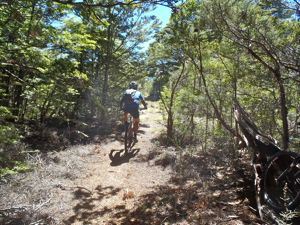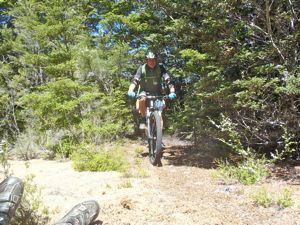 Riding through clearings in the ultramafic belt above Red Hills Hut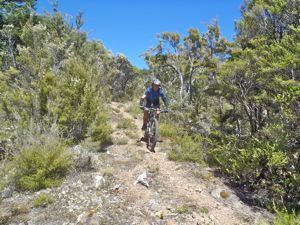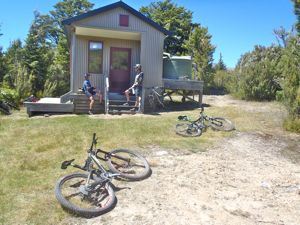 Descending the old bulldozed track to Red Hills Hut and the first available water