Click here to purchase Nelson-Marlborough-Buller Mountainbike Trails Book.
Please make sure that you click SUBMIT when you fill out the form or we will not receive your details.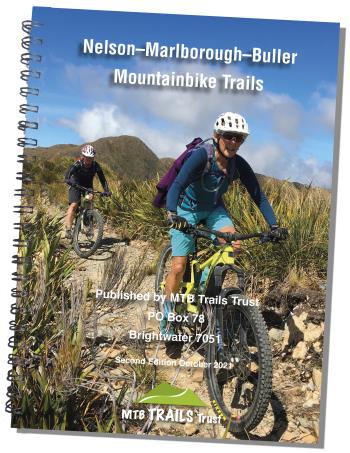 This full colour edition of Nelson-Marlborough-Buller Trails Book has been expanded to 124 pages with 178 photos, 57 topographic maps, and 84 trail descriptions plus maps of Codgers, Kaiteriteri, Hanmer, Wither Hills, Picton and Denniston trail networks. It can be purchased for $45 including New Zealand postage. Please put your name and Trails Book as a reference.
The book is a handy A5 size that is wiro bound so it will fit in your pack and stay flat and open at the right page. You won't need to carry a map with you, they are all in the book. It is my hope that this book will inspire you to go out and explore the great variety of riding in the Nelson–Marlborough–Buller region.