New Zealand's Code of Conduct for all mountainbikers is written as follows: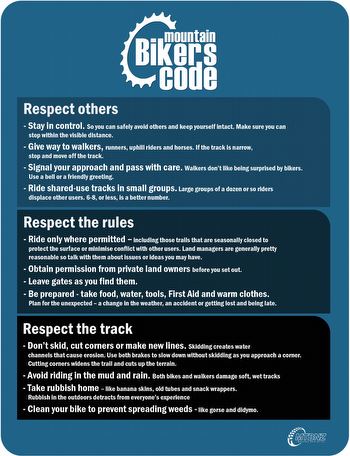 More readable version here
And before heading out into the outdoors, it is well worth being aware of the Outdoor Safety Code for Backcountry Mountainbiking , especially for those Epic Trail missions!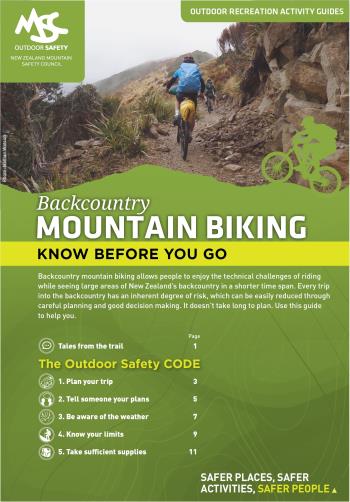 Download the poster here
And you can have a read of the full 16 page guide here.
E-Bikes
The Trust has a formal position on the use of electric powered bikes on our trails, and it is based solidly on the current NZTA restrictions, combined with the best information available internationally about their impact (socially and physically).
The NZTA restrictions categorise any bike with a power unit greater than 300W as a vehicle. DOC and all local bodies around NZ already restrict the use of vehicles in public reserves and conservation land, so a means of managing and defining e-bike use is already in place and the MTB Trails Trust fully endorses this.
The Trust does stress however, that E-bikes are not all created equally! The term pedal-assist helps to define how we need to perceive these bikes, and this is also how manufacturers and retailers differentiate between a bike that needs to be pedalled to gain benefit from an electric motor, versus the higher powered 'twist throttle' versions that are invariably classed as vehicles having power outputs in the kW range and very high torque.
The MTB Trails Trust supports the 300W E-bike limit for pedal assist and all E-bikes and sees this as a workable framework to help the way these bikes integrate into accepted trail use. Ultimately, these pedal assist E-bikes get riders up hills and often along trails at a more constant rate than they otherwise might be able to, but have little extra impact on trails in the down direction.